VENTO
Compact multifunctional street lighting fixture, with a modern essential design, suitable for urban, parking, cycling paths applications.
Integral body – pole mounting: die-cast aluminum.
Pole mounting: suitable for ø 60mm poles.
Paintwork: thermosetting polyester powder, prior degreasing and phosphochromatizing process that will ensure an extremely high resistance to chemical and atmospheric agents.
Protection glass: serigraphic extra clear tempered 4 mm.
LED modules: CRI>70, CCT 4000K.
Expected lifetime: 157,000h L80 B10 @ta25, 133,000h L80 B10 @ta50.
Lens: 2×2 multiple cluster in PMMA Anti UV UL94, street light distribution, cyclable and pedestrian path.
Power supply: 220-240V 50-60Hz with electronic ballast, surge protection 6/8Kv, NTC thermal sensor, low ripple. Cable 2×1.5mmq, L=1.0mt supplied as standard, already connected.
Installation: Designed to be installed in vertical or horizontal position, without any adapter. Rotation range: +15°/-5°.
Available on request:
• DALI dimmable driver and output reduction with Vmidnight system;
• CRI80;
• Zhaga: Socket 4 pin (Zhaga Book 18);
• SPD 10kV.
Accessories on request:
• pole adapter Ø 40-42mm, 48-50mm o 76mm;
• angle/wall bracket Ø 60mm.
Product's luminous flux were calculated taking into account the typical value declared by the LED manufacturer. Therefore, tolerances on production batches could be considered of +/-5%. The values declared refer to standard coloring 4000K. If not explicitly indicated, flux could deviates by -5% for 3000K, +5% for 5000/5700K.
Documents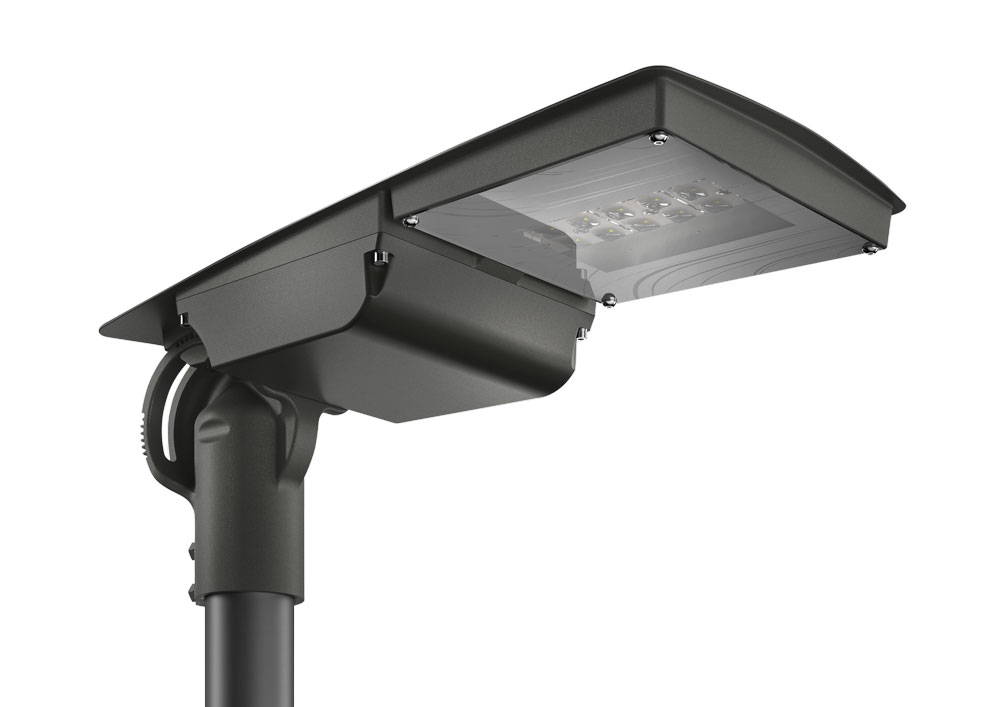 Vento
Vento
Available colors:

Antracite RAL 7039




Application example:
Photometric Data:
CYC
ST ME3M
AS
| CODE | DESCRIPTION | CURRENT (A) | W | TYPICAL FLUX (LM) | NET OUTPUT (LM) | NET WEIGHT (KG) | ENERGY CLASS | DATASHEET |
| --- | --- | --- | --- | --- | --- | --- | --- | --- |
| | | | | | | | dal 1° Set. 2021/ from Sept 1st 2021 | |
| 508643.162 | ME3M - 1 LM 740 | 700 (mA) | 24 | 4150 | 3470 | 5,19 | B | |
| 508643.262 | ME3M - 2 LM 740 | 700 (mA) | 48 | 8300 | 6940 | 5,36 | B | |
| 508643.362 | ME3M - 3 LM 740 | 700 (mA) | 72 | 12450 | 10410 | 5,44 | B | |
| | | | | | | | | |
| 509643.162 | CYC - 1 LM 740 | 700 (mA) | 24 | 4150 | 3520 | 5,19 | B | |
| 509643.262 | CYC - 2 LM 740 | 700 (mA) | 48 | 8300 | 7040 | 5,36 | B | |
| 509643.362 | CYC - 3 LM 740 | 700 (mA) | 72 | 12450 | 10560 | 5,44 | B | |
| | | | | | | | | |
| 510643.162 | AS - 1 LM 740 | 700 (mA) | 24 | 4150 | 3075 | 5,19 | B | |
| 510643.262 | AS - 2 LM 740 | 700 (mA) | 48 | 8300 | 6150 | 5,36 | B | |
| 510643.362 | AS - 3 LM 740 | 700 (mA) | 72 | 12450 | 9225 | 5,44 | B | |
| | | | | | | | | |
| code + DALI | Driver dimmerabile DALI | DALI dimmable driver | | | | | | | |
| code + DIMM | Driver dimmerabile Vmidnight | Vmidnight dimmable driver | | | | | | | |
| 900000.000 | SPD 10kV CLII integrato con Cut/Off | SPD 10kV CLII embedded with Cut/Off | | | | | | | |
| code + Z4 | Predisposizione meccanica Zhaga Book18 4 pin | Zagha Book18 4pin mechanical set up | | | | | | | |
| code + Z4W | Sistema Zhaga Book18 4 pin precablato, driver DALI pronto per Smart Lighting Zhaga Book 18 4 pin pre-wired, DALI driver ready for Smart Lighting | | | | | | | |
| | | | | | | | | |
| 950800.040 | Adattatore palo | Pole adapter Ø 40-42mm | | | | | | | |
| 950800.050 | Adattatore palo | Pole adapter Ø 48-50mm | | | | | | | |
| 950000.006 | Adattatore palo | Pole adapter Ø 76mm | | | | | | | |
| 950000.000 | Braccio da parete | Wall bracket Ø 60mm | | | | | | | |