Sly C-System
LED modular linear suspension luminaire, with a remarkable high efficiency, visual comfort and glare control.
Sly was designed also to be installed as continuous row system, suitable for offices, showrooms, supermarkets, open spaces, retail, work areas.
Body: 6/10 steel sheet, painted with polyester powders to guarantee an excellent resistance to chemical agents.
Optics: PMMA anti-UV, available in 5 possible beams (60°- 90° as standard) developed with innovative ELA (Extended Light Area) and CLC (Constant Light Color) systems.
LED modules: powered at 200mA and 350mA, realized with B/C system, for the reduction of shadows and reflections.
Color temperature: 3000/4000K. CRI>80.
Expected lifetime: 54.000h L80 B20 @ta25 54.000h L70 B50@tamax.
Power: 220-240V 50/60Hz driver, ripple free, SP system, Active PFC.
Power supply kit: composed of 3x1mm² power cable, L=2,50mt and ceiling base.
Sospension kit: composed of steel tie-rods L=2,50mt.
Available on request:
• CRI90 version;
• 90° TL, AS, R2A optics;
• SPD 12kV;
• 1-10V and DALI dimmable driver;
• internal 1-3h maintained emergency.
Components on request:
• 57cm single module (only ON/OFF);
• joint for continuous row;
• blind module;
• 5-pole pass-through wiring with phase inversion;
• rotating joint 180°;
• blind rotating joint 180°;
• power supply rotating joint 180°.
Product's luminous flux were calculated taking into account the typical value declared by the LED manufacturer. Therefore, tolerances on production batches could be considered of +/-5%. The values declared refer to standard coloring 4000K. If not explicitly indicated, flux could deviates by -5% for 3000K, +5% for 5000/5200K.
Documents
Sly sistema componibile
Giunto per fila continua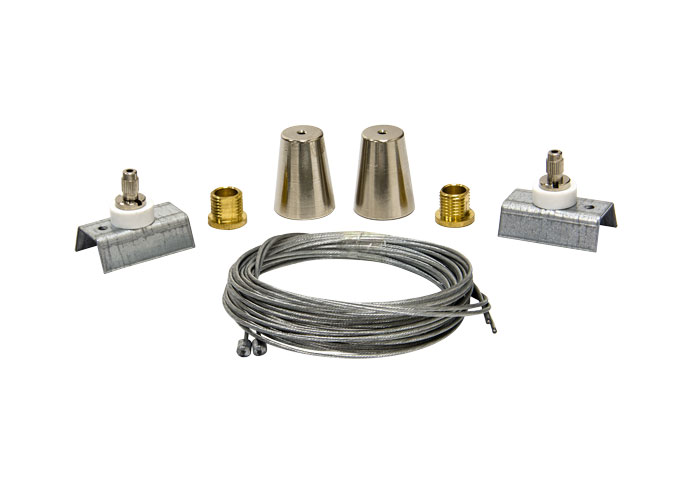 Kit sospensione: composto da tiranti in acciaio L=2,5mt
Side cap
Side power supply
Power supply kit + Ceiling base L=2,5mt
Rotating joint 180°
Available colors:

Bianco RAL 9003

Nero
Argento RAL 9006







Application example:
Photometric Data:
60°
90°
90° TL a richiesta
AS a richiesta
| CODE | DESCRIPTION | CURRENT (A) | W | TYPICAL FLUX (LM) | NET OUTPUT (LM) | NET WEIGHT (KG) | ENERGY CLASS | DATASHEET |
| --- | --- | --- | --- | --- | --- | --- | --- | --- |
| | "C System" Sistema fila continua, sospensione | Continuous row system, suspension | | | | | | dal 1° Set. 2021/ from Sept 1st 2021 | |
| 613631.217 | 60° - 113cm 840 C-System | 200 | 14 | 2302 | 2003 | 2,25 | C | |
| 613631.326 | 60° - 169cm 840 C-System | 200 | 20.5 | 3453 | 3004 | 3,20 | C | |
| 613631.224 | 60° - 113cm 840 C-System | 350 | 24 | 3969 | 3453 | 2,25 | C | |
| 613631.336 | 60° - 169cm 840 C-System | 350 | 36 | 5953 | 5179 | 3,20 | C | |
| | | | | | | | | |
| 614631.217 | 90° - 113cm 840 C-System | 200 | 14 | 2302 | 2026 | 2,25 | C | |
| 614631.326 | 90° - 169cm 840 C-System | 200 | 20.5 | 3453 | 3039 | 3,20 | C | |
| 614631.224 | 90° - 113cm 840 C-System | 350 | 24 | 3969 | 3493 | 2,25 | C | |
| 614631.336 | 90° - 169cm 840 C-System | 350 | 36 | 5953 | 5239 | 3,20 | C | |
| | | | | | | | | |
| 613001.001 | Modulo cieco 57cm + C/p 3x1,5mm² | Blind module 57cm + T/w 3x1,5mm² | | | | | 1,10 | | |
| 613001.002 | Modulo cieco 113cm + C/p 3x1,5mm² | Blind module 113cm + T/w 3x1,5mm² | | | | | 2,10 | | |
| 613001.003 | Modulo cieco 169cm + C/p 3x1,5mm² | Blind module 169cm + T/w 3x1,5mm² | | | | | 3,00 | | |
| | | | | | | | | |
| 961300.000 | Giunto meccanico per fila continua | Joint for continuous row system | | | | | 0,29 | | |
| 961301.001 | Giunto meccanico per fila continua (per versione 57cm) | Joint for continuous row system (for 57cm version) | | | | | 0,10 | | |
| 961301.004 | Testata alimentazione Sly 3p | 3p Sly Side power supply | | | | | 0,10 | | |
| 961301.002 | Testata alimentazione Sly 5p | 5p Sly Side power supply | | | | | 0,04 | | |
| 961301.003 | Tappo laterale | Side cap | | | | | 0,30 | | |
| 961301.003 | Kit alimentazione + Rosone L= 2,5m 3p | Power Supply kit L=2,5m + Ceiling base 3p | | | | | 0,30 | | |
| 961301.007 | Kit alimentazione + Rosone L= 2,5m 5p | Power Supply kit L=2,5m + Ceiling base 5p | | | | | 0,30 | | |
| 961301.005 | Snodo rotazione 180° 3p | 180° Rotating joint 3p | | | | | 0,18 | | |
| 961301.006 | Snodo rotazione 180° 5p | 180° Rotating joint 5p | | | | | 0,18 | | |
| 961301.008 | Snodo di rotazione cieco 180° | Blind rotating joint 180° | | | | | 0,18 | | |
| 961301.009 | Snodo di rotazione 180° con alimentazione 3p | Power supply rotating joint 180° 3p | | | | | 0,18 | | |
| 961301.010 | Snodo di rotazione 180° con alimentazione 5p | Power supply rotating joint 180° 5p | | | | | 0,18 | | |
| | | | | | | | | |
| code + DALI | Driver dimmerabile DALI | DALI dimmable driver | | | | | | | |
| code + DIMM | Driver dimmerabile 1-10V | 1-10V dimmable driver | | | | | | | |
| code +01 | Kit Emergenza 1h | 1h Emergency kit (escluso per versione 57cm | excluded for 57cm version) | | | | | 0,35 | | |
| code + 03 | Kit Emergenza 3h | 3h Emergency kit (solo per versione 169cm | only for 169cm version) | | | | | 0,54 | | |
| 900000.003 | SPD 12kV Integrato con spia segnalazione di malfunzionamento | SPD 12kV Embedded with malfunction warning light | | | | | | | |