Office Evo
Surface mounted LED luminaire, very compact, characterized by a high efficiency, excellent glare control, perfect for commercial spaces, schools, offices, stores illumination.
Body: 6/10 steel sheet, painted with polyester powders to guarantee an excellent resistance to chemical agents.
Optics: PMMA, available in 60° (UGR <19) and 90° (UGR <20), developed with innovative ELA (Extended Light Area) and CLC (Constant Light Color) systems.
LED modules: powered at 350mA and 500mA, realized with B/C system, for the reduction of shadows and reflections. Color temperature: 3000/4000K. CRI>80.
Expected lifetime: 54.000h L80 B20 @ta25, 54.000h L70 B50 @ta max.
Power: 220-240V 50/60Hz driver, ripple free, SP system, Active PFC.
Available on request:
• DALI dimmable driver;
• internal 1-3h maintained emergency kit;
• suspension kit L=1.75mt.
Documents

Photometric Data

Catalog page

Components Datasheets
Available colors:

White RAL 9003





Photometric Data: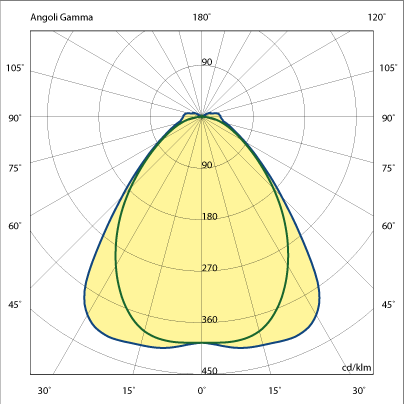 Office Evo 90°
Office Evo 60°
| CODE | DESCRIPTION | CURRENT (A) | TRIGGER (KV) | W | TYPICAL FLUX (LM) | NET OUTPUT (LM) | NET WEIGHT (KG) | DATASHEET |
| --- | --- | --- | --- | --- | --- | --- | --- | --- |
| 609641.112 | LED 12W 60° | 350 | | 12 | 1905 | 1657 | 1,70 | |
| 609641.224 | LED 24W 60° | 350 | | 24 | 3810 | 3315 | 3,30 | |
| 609641.336 | LED 36W 60° | 350 | | 36 | 5715 | 4972 | 4,50 | |
| 609641.118 | LED 18W 60° | 500 | | 18 | 2615 | 2275 | 1,70 | |
| 609641.236 | LED 36W 60° | 500 | | 36 | 5230 | 4550 | 3,30 | |
| 609641.353 | LED 53W 60° | 500 | | 53 | 7845 | 6825 | 4,50 | |
| 609641.424 | LED 24W 60° | 350 | | 24 | 3810 | 3315 | 3,20 | |
| 609641.448 | LED 48W 60° | 350 | | 48 | 7620 | 6629 | 4,70 | |
| 609641.896 | LED 96W 60° | 350 | | 96 | 15240 | 13259 | 9,30 | |
| | | | | | | | | |
| 610641.112 | LED 12W 60° | 350 | | 12 | 1905 | 1657 | 1,70 | |
| 610641.224 | LED 24W 60° | 350 | | 24 | 3810 | 3315 | 3,30 | |
| 610641.336 | LED 36W 60° | 350 | | 36 | 5715 | 4972 | 4,50 | |
| 610641.118 | LED 18W 60° | 500 | | 18 | 2615 | 2275 | 1,70 | |
| 610641.236 | LED 36W 60° | 500 | | 36 | 5230 | 4550 | 3,30 | |
| 610641.353 | LED 53W 60° | 500 | | 53 | 7845 | 6825 | 4,50 | |
| 610641.424 | LED 24W 60° | 350 | | 24 | 3810 | 3315 | 3,20 | |
| 610641.448 | LED 48W 60° | 350 | | 48 | 7620 | 6629 | 4,70 | |
| 610641.896 | LED 96W 60° | 350 | | 96 | 15240 | 13259 | 9,30 | |
| | | | | | | | | |