MASTER EVO
False ceiling recessed fitting for modular panels with visible mounting sys-tem.
Body: 6/10 steel sheet, painted with polyester powders to guarantee an excellent resistance to chemical agents.
Optics: PMMA, available in 60° (UGR <19) and 90° (UGR <20) developed with innovative ELA (Extended Light Area) and CLC (Constant Light Color) systems.
LED modules: powered at 250mA and 350mA, realized with B/C sys-tem, for the reduction of shadows and reflections. Color temperature: 3000/4000K. CRI>80.
Expected lifetime: 54.000h L80 B20 @ta25, 54.000h L70 B50 @tamax.
Power: 220-240V 50/60Hz driver, ripple free, SP system, Active PFC.
IP43:luminaire installed
Available on request:
• DALI dimmable driver;
• internal 1-3h maintained emergency kit;
• frame for recessed cardboard ceiling installation.
Product's luminous flux were calculated taking into account the typical value declared by the LED manufacturer.  Therefore, tolerances on production batches could be considered of +/-5%
The values declared refer to standard coloring 4000K.  If not explicitly indicated, flux could deviates by -5% for 3000K, +5% for 5000/5200K.
Documents

Photometric Data

Catalog page

2D Drawing

UE Declaration of conformity

Photo HD

Components Datasheets
Available colors:

Bianco RAL9003





Application example:
Photometric Data:
Master Evo 60°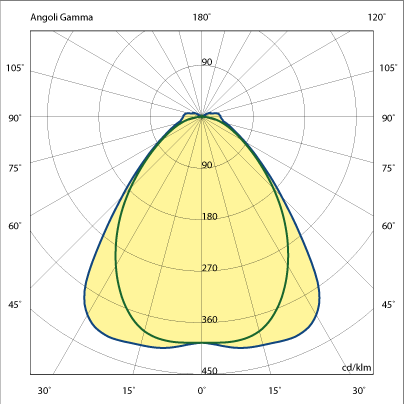 Master Evo 90°
| CODE | DESCRIPTION | CURRENT (A) | TRIGGER (KV) | W | TYPICAL FLUX (LM) | NET OUTPUT (LM) | NET WEIGHT (KG) | DATASHEET |
| --- | --- | --- | --- | --- | --- | --- | --- | --- |
| 707641.217 | LED 17W, UGR<19 60° | 250 | | 17 | 2790 | 2595 | 2,26 | |
| 707641.234 | LED 34W, UGR<19 60° | 250 | | 34 | 5580 | 5190 | 4,22 | |
| 707641.448 | LED 48,5W, UGR<19 60° | 350 | | 48.5 | 7620 | 7090 | 4,22 | |
| 707641.434 | LED 34W, UGR<19 60° | 250 | | 34 | 5580 | 5190 | 4,22 | |
| 707641.224 | LED 24W, UGR<19 60° | 350 | | 24 | 3810 | 3545 | 3,78 | |
| 707641.468 | LED 68W, UGR<19 60° | 250 | | 68 | 11160 | 10380 | 8,15 | |
| | | | | | | | | |
| 708641.217 | LED 17W, UGR<20 90° | 250 | | 17 | 2790 | 2595 | 2,26 | |
| 708641.234 | LED 34W, UGR<20 90° | 250 | | 34 | 5580 | 5190 | 4,22 | |
| 708641.448 | LED 48,5W, UGR<20 90° | 250 | | 48.5 | 7620 | 7090 | 4,22 | |
| 708641.434 | LED 34W, UGR<20 90° | 250 | | 34 | 5580 | 5190 | 4,22 | |
| 708641.224 | LED 24W, UGR<20 90° | 250 | | 24 | 3810 | 3545 | 3,78 | |
| 708641.468 | LED 68W, UGR<20 90° | 250 | | 68 | 11160 | 10380 | 8,15 | |
| | | | | | | | | |
| code+DALI | Driver dimmerabile DALI | | | | | | | |
| code+01 | Kit Emergenza 1h | | | | | | 0,35 | |
| code+03 | Kit Emergenza 3h | | | | | | 0,54 | |