HEXAGON
Innovative modular suspension, extremely light and compact, born to combine efficiency, effectiveness, flexibility and elegance. Suitable for industrial, commercial areas, supermarkets, shops.
Body and rotating elements: cooling fins for maximum heat dissipation, in die-cast aluminum.
Painting: thermosetting polyester powder, prior degreasing and phosphochromatizing process that will ensure an extremely high resistance to chemical and atmospheric agents.
Protection diffuser and lenses: multi optic transparent methacrylate, satin finish details (PMMA), 60° and 120° beam.
LED: Cree XHP35, CRI70, CCT 4000K.
Expected lifetime: 60.000h L90 B10 @ta25; 50.000h L80 B10 @ta50.
Available versions: 120° wide beam and medium beam 60° optic.
Remote gear box IP66: 220-240V 50-60Hz with electronic ballast, surge protection up to 6/8kV, dimm 1-10V, NTC thermal sensor, ripple free, Active PFC system, SP system, fast plug waterproof connector.
Suspension kit: ceiling mounting base, security cables, steel cables L= 1,75 mt for adjustable installation height, 2 mt power supply cable.
Available on request:
• DALI dimmable driver;
• CCT 3000/5000K;
• customized LEDs current driving;
• wall – ceiling fixing brackets.
Product's luminous flux were calculated taking into account the typical value declared by the LED manufacturer. Therefore, tolerances on production batches could be considered of +/-5%. The values declared refer to standard coloring 4000K. If not explicitly indicated, flux could deviates by -5% for 3000K, +5% for 5000/5200K.
Documents
Hexagon 2 LM
Hexagon 3 LM
Hexagon 3 LM
Hexagon 3 moduli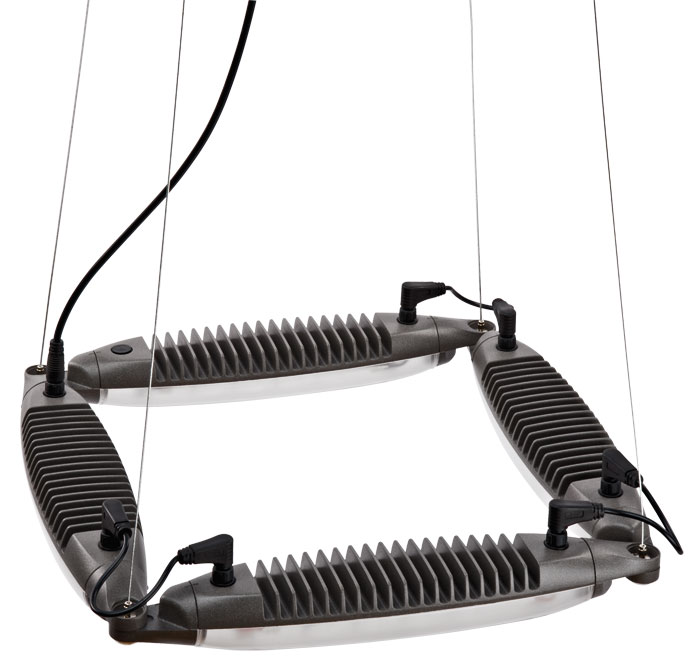 Hexagon 4 moduli
Hexagon 5 moduli
Hexagon 6 moduli
Hexagon 6 moduli
Available colors:

Antracite RAL 7039






Application example:
Photometric Data: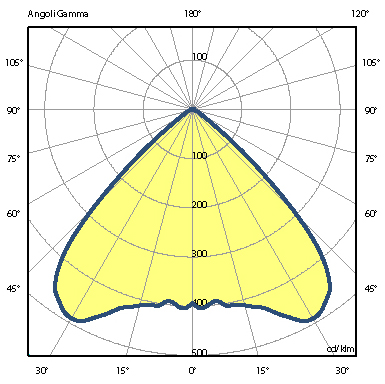 120°
60°
| CODE | DESCRIPTION | CURRENT (A) | W | TYPICAL FLUX (LM) | NET OUTPUT (LM) | NET WEIGHT (KG) | ENERGY CLASS | DATASHEET |
| --- | --- | --- | --- | --- | --- | --- | --- | --- |
| | | | | | | | dal 1° Set. 2021/ from Sept 1st 2021 | |
| 330643.104 | 120° - 1 LM 840 | 700 (mA) | 32 | 4300 | 4105 | 1,99 | D | |
| 330643.208 | 120° - 2 LM 840 | 700 (mA) | 64 | 8600 | 8210 | 3,1 | D | |
| 330643.312 | 120° - 3 LM 840 | 700 (mA) | 96 | 12900 | 12315 | 4,43 | D | |
| 330643.416 | 120° - 4 LM 840 | 700 (mA) | 128 | 17200 | 16420 | 5,56 | D | |
| 330643.520 | 120° - 5 LM 840 | 700 (mA) | 160 | 21500 | 20525 | 7,79 | D | |
| 330643.624 | 120° - 6 LM 840 | 700 (mA) | 192 | 25800 | 24630 | 8,92 | D | |
| | | | | | | | | |
| 331643.104 | 60° - 1 LM 840 | 700 (mA) | 32 | 4300 | 4105 | 1,99 | D | |
| 331643.208 | 60° - 2 LM 840 | 700 (mA) | 64 | 8600 | 8210 | 3,1 | D | |
| 331643.312 | 60° - 3 LM 840 | 700 (mA) | 96 | 12900 | 12315 | 4,43 | D | |
| 331643.416 | 60° - 4 LM 840 | 700 (mA) | 128 | 17200 | 16420 | 5,56 | D | |
| 331643.520 | 60° - 5 LM 840 | 700 (mA) | 160 | 21500 | 20525 | 7,79 | D | |
| 331643.624 | 60° - 6 LM 840 | 700 (mA) | 192 | 25800 | 24630 | 8,92 | | |