Hexagon SQ
Modular luminaire, light and compact, developed to combine efficacy, ductility and semplicity of installation.
Ideal for industrial, commercial areas, supermarkets and shops lighting.
Frame and fixing / suspension bracket: in painted steel RAL7039.
Rotating elements: cooling fins for maximum heat dissipation, in die-cast aluminum.
Painting: thermosetting polyester powder, prior degreasing and phosphochromatizing process that will ensure an extremely high resistance to chemical and atmospheric agents.
Protection diffuser and lenses: multi optic transparent methacrylate, satin finish details (PMMA).
LED: Cree XHP35, CRI80, CCT 4000K.
Expected lifetime: 60.000h L90 B10 @ta25; 50.000h L80 B10 @ta50.
Available versions: 120° wide beam and medium beam 60° optic.
Remote gear box IP66: 220-240V 50-60Hz with electronic ballast, surge protection up to 6/8kV, NTC thermal sensor, ripple free, Active PFC system, SP system (overcharge and short circuit protection).
Accessories on request:
• protection grid;
• rotating bracket.
Product's luminous flux were calculated taking into account the typical value declared by the LED manufacturer. Therefore, tolerances on production batches could be considered of +/-5%. The values declared refer to standard coloring 4000K. If not explicitly indicated, flux could deviates by -5% for 3000K, +5% for 5000/5200K.
Documents
Hexagon SQ 4 LM
Hexagon SQ 6 LM
Hexagon SQ 6 LM retro | back
Available colors:

Antracite RAL 7039





Application example:
Photometric Data:
60°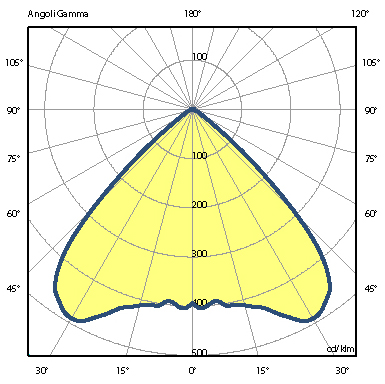 90°
| CODE | DESCRIPTION | CURRENT (A) | W | TYPICAL FLUX (LM) | NET OUTPUT (LM) | NET WEIGHT (KG) | ENERGY CLASS | DATASHEET |
| --- | --- | --- | --- | --- | --- | --- | --- | --- |
| 332643.312 | 120° - 3 LM 840 | 800 | 120 | 15000 | 14250 | 4,80 | dal 1° Set. 2021/ from Sept 1st 2021 | |
| 332643.416 | 120° - 4 LM 840 | 800 | 160 | 20000 | 19000 | 5,35 | D | |
| 332643.520 | 120° - 5 LM 840 | 800 | 200 | 25000 | 23750 | 6,50 | D | |
| 332643.624 | 120° - 6 LM 840 | 800 | 240 | 30000 | 28500 | 7,91 | D | |
| | | | | | | | D | |
| 333643.312 | 60° - 3 LM 840 | 800 | 120 | 15000 | 14250 | 4,80 | | |
| 333643.416 | 60° - 4 LM 840 | 800 | 160 | 20000 | 19000 | 5,35 | D | |
| 333643.520 | 60° - 5 LM 840 | 800 | 200 | 25000 | 23750 | 6,50 | D | |
| 333643.624 | 60° - 6 LM 840 | 800 | 240 | 30000 | 28500 | 7,91 | D | |