CONTINENTAL SM AS
Floodlight for tubular discharge lamps up to 2000W, ideal for large areas lighting as parking lots, ports, airports, sport facilities.
Housing and frame: die-cast aluminium.
Paintwork: thermosetting polyester powder, prior degreasing and phosphochromatizing process that will ensure an extremely high resistance to chemical and atmospheric agents.
Glass: extra clear 5 mm tempered coupled to the body with die-cast aluminium rotation hooks.
Lampholder: ceramic E40.
Bracket: 4 mm thick welded and shaped steel with hot-dip galvanizing final treatment.
Igniter box: in nylon fiber glass standard equipment, applied directly on the housing.
Available versions:
SM, for wide and symmetric beam;
AS, with asymmetry vertex over 40°.
Accessories on request:
• igniter box;
• 1000W wiring box;
• 2000W wiring box.
Documents
Continental AS
Continental SM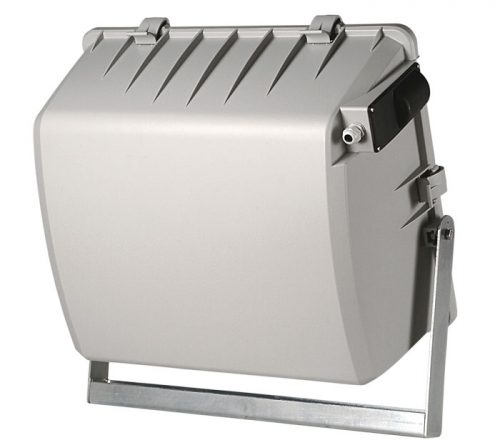 Continental Retro
Accenditore
Available colors:
Grigio RAL 7038





Application example:

Photometric Data:
Continental SM-MH-T PH 1000W E40
Continental AS MH-T 2000W E40
| CODE | DESCRIPTION | CURRENT (A) | W | TYPICAL FLUX (LM) | NET OUTPUT (LM) | NET WEIGHT (KG) | ENERGY CLASS | DATASHEET |
| --- | --- | --- | --- | --- | --- | --- | --- | --- |
| 230003.110 | SM, NC 1000W E40 | | 1000 | | | 18,5 | | |
| 230003.120 | SM, NC 2000W E40 | | 2000 | | | 18,5 | | |
| 230123.110 | SM, HPS-T/MH-T 1000W NAV-T/HQI-T D E40 230V CNR | 9,5/10,30 (A) | 1000 | | | 29,7 | | |
| 230323.110 | SM, MH-T PH 1000W HPI-T E40 230V CNR | 8,20 (A) | 1000 | | | 28,2 | | |
| 230123.120 | SM, MH-T 2000W HQI-T/D E40 380V CNR | 10,30 (A) | 2000 | | | 34,85 | | |
| 230123.121 | SM, MH-T 2000W HQI-T/DI E40 380V CNR | 10,30 (A) | 2000 | | | 34,5 | | |
| 230323.120 | SM, MH-T PH 2000W HPI-T E40 380V CNRL | 8,80 (A) | 2000 | | | 34,65 | | |
| 230133.110 | SM, HPS-T 1000W NAV-T E40 230V CNRL | 10,30 (A) | 1000 | | | 29,66 | | |
| 230233.110 | SM, MH-T 1000W HQI-T D E40 230V CNRL | 9,50 (A) | 1000 | | | 29,66 | | |
| 230333.110 | SM, MH-T PH 1000W HPI-T E40 230V CNRL | 8,20 (A) | 1000 | | | 28,26 | | |
| 230233.120 | SM, MH-T 2000W HQI-T/D E40 380V CNRL | 10,30 (A) | 2000 | | | 35,05 | | |
| 230233.121 | SM, MH-T 2000W HQI-T/DI E40 380V CNRL | 10,30 (A) | 2000 | | | 35,05 | | |
| 230333.120 | SM, MH-T PH 2000W HPI-T E40 380V CNRL | 8,80 (A) | 2000 | | | 34,91 | | |
| | | | | | | | | |
| 231003.110 | AS, NC 1000W E40 | | 1000 | | | 18,5 | | |
| 231003.120 | AS, NC 2000W E40 | | 2000 | | | 18,5 | | |
| 231123.110 | AS, HPS-T/MH-T 1000W NAV-T/HQI-T D E40 230V CNR | 9,5/10,30 (A) | 1000 | | | 29,7 | | |
| 231323.110 | AS, MH-T PH 1000W HPI-T E40 230V CNR | 8,20 (A) | 1000 | | | 28,2 | | |
| 231123.120 | AS, MH-T 2000W HQI-T/D E40 380V CNR | 10,30 (A) | 2000 | | | 34,85 | | |
| 231123.121 | AS, MH-T 2000W HQI-T/N E40 380V CNR | 10,30 (A) | 2000 | | | 34,5 | | |
| 231323.120 | AS, MH-T PH 2000W HPI-T E40 380V CNR | 8,80 (A) | 2000 | | | 34,65 | | |
| 231133.110 | AS, HPS-T 1000W NAV-T E40 230V CNR | 10,30 (A) | 1000 | | | 29,66 | | |
| 231233.110 | AS, MH-T 1000W HQI-T D E40 230V CNRL | 9,50 (A) | 1000 | | | 29,66 | | |
| 231333.110 | AS, MH-T PH 1000W HPI-T E40 230V CNRL | 8,20 (A) | 1000 | | | 28,26 | | |
| 231233.120 | AS, MH-T 2000W HQI-T/D E40 380V CNRL | 10,30 (A) | 2000 | | | 35,05 | | |
| 231233.121 | AS, MH-T 2000W HQI-T/D/I E40 380V CNRL | 10,30 (A) | 2000 | | | 35,05 | | |
| 231333.120 | AS, MH-T PH 2000W HPI-T E40 380V CNRL | 8,80 (A) | 2000 | | | 34,91 | | |